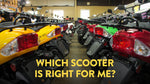 If you've stepped foot on campus in Iowa City, then you know there are hundreds of different scooters out there. Various models, colors, shapes, motor sizes, you name it. With all the choices, how would you know which one is the best for you? Skip the analysis paralysis (@ Psych Majors), we can help.
Your current lifestyle and day-to-day activities can help narrow down which scooter is the best fit. Here are a couple of things to consider before making your purchase:
How long you'll be using the scooter: Do you plan on riding a scooter for the rest of your life? Or only for the next 4 years of college? 
How frequently you'll use it: Are you going to ride the scooter every day to get to school? Or is twice per week to get to practice enough?
Your current budget: How much are you willing to invest in a scooter? Lucky for you, we offer a variety of scooters at our store that are student-budget friendly.
We know how tricky it can be to pick a scooter that's the right fit. So we've broken our inventory out into three levels that can help you make the right choice!
Level 1: Wolf
If you're searching for a quality, budget-friendly scooter you can rely on, Wolf has got what you're looking for.
Wolf is an American-based scooter company that's become a big hit among college students and campuses. Their achievements include:
Getting rated as the #1 campus scooter by College Magazine. 

Getting named as 'America's hip millennial Scooter Company' by MPN magazine.
Who is it for? The Wolf brand is perfect for anyone looking to buy a scooter for short term use. We typically sell it to high school students, but various individuals can also benefit from the brand.
Why is it a good fit? The price point is what initially draws a lot of people to Wolf scooters. They're affordable and can be easily operated by new riders.
Price: Starts at $1,549.
Models we recommend:
Wolf RX50 – 

The Wolf RX50 is the most popular scooter at our store. It's an affordable, durable scooter that's perfect for getting all over town. The scooter comes with a two-year guarantee, so you can ride in peace knowing that you're covered.

Wolf Islander – 

Looking for an awesome retro scooter? Then the Wolf Islander is for you. It has an excellent gas mileage and is easy to maintain - give it a bit of gas and an oil change from time to time and you're good.

Wolf Rugby – 

This is the latest scooter from Wolf. Its features include off-road inspired tires, handguards, dual rear shocks, and a USB charging port.
Level 2: Piaggio
Piaggio is an Italian-based brand that's been building scooters for 70 years.
The company originally manufactured airplanes during World War II. Once the war ended, they switched their attention to producing low-cost scooters. They've built a strong following worldwide ever since then.
Who is it for? We recommend the brand to college students for 4+ years of use. It's also convenient for college athletes and people who are constantly on the go and need something reliable. 
Why is it a good fit? Piaggio brand scooters are a step up in quality compared to Wolf scooters and can withstand a lot of riding and abuse.
Price: Starts at $2799.
Models we recommend:
Piaggio Liberty 50 – 

Its elegant design and use of technology makes the Liberty one of Piaggio's best scooters to date. It's been constructed to maximize safety and offer the best possible riding experience.

Piaggio Liberty 150 - The same level of awesome, but with a larger 150cc engine and an Anti-Lock Front Brake!
Level 3: Vespa
Vespa has been popular among scooter enthusiasts for decades now. The brand is also well known among people who love to travel.
According to the New York Times, Vespa scooters hold their value better than any other motor vehicle (cars, trucks, motorcycles, etc). So when it's time to graduate or try out a new scooter and you're looking to resell, you'll definitely get a nice return on your investment!
Who is it for? We recommend the brand to scooter lovers for long-term use.
Why is it a good fit? Vespas can last for decades if they're well maintained. Their signature look will turn heads everywhere you go!
Price: Starts at $4,399.
Models we recommend:
Vespa Primavera 50 – The Vespa Primavera ("spring" in Italian) has become one of the brand's most popular models. Its sleek Italian design intends to maximize quality and reliability. 
Vespa Sprint 150 – 

As the name suggests, the "Sprint" is the sportiest model of the Vespa brand. The Sprint 150 offers impeccable performance with 4-stroke, 3-valve single-cylinder engine.

Vespa GTS 300 – 

The GTS 300 offers the most powerful engine in the entire Vespa range with its 300cc engine. It's the ideal scooter for big city traffic.
Need help finding your specific scoot?
Contact us
or stop by our shop today! We'll make sure to find an awesome scooter that compliments your budget and schedule 👌