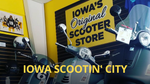 Iowa City is an amazing place to have a scooter. If you live around here, find out why a scooter is right for your budget, schedule and life. Once you've checked all the boxes, stop by and our team will find the right scoot for you.
---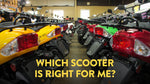 If you've stepped foot on campus in Iowa City, then you know there are hundreds of different scooters out there. Various models, colors, shapes, motor sizes, you name it. With all the choices, how would you know which one is the best for you? Skip the analysis paralysis (@ Psych Majors), we can help. Your current lifestyle and day-to-day activities can help narrow down which scooter is the best fit. Here are a couple of things to consider before making your purchase: How long you'll be using the scooter: Do you plan on riding a scooter for the rest of your...
---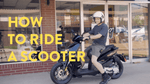 Interested in buying a scooter, but hesitant to stop in because you don't know how to ride one? We've got you covered! Learning how to ride a scooter is extremely easy and straight-forward. We'll show you how!