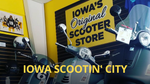 If you haven't missed the CAMBUS at least once you're either lying or didn't live in Mayflower. 
For most people, commuting is one of the most consuming parts of the day. To get to class or work in downtown Iowa City, you normally fall victim to one of these options:
Walking – Tough news but you're about to be sweaty for that career fair.

Driving – We wish you all the luck finding a parking space. (Library is free if you stay until Midnight)

Taking the bus – If you're two minutes late, see #1
Any of these options will get you to your destination, but not very efficiently OR enjoyably.
So what's the solution? Bet you can guess from the name of the website 😉 A SCOOTER!
Whether you call it a moped or a scooter, one thing is for sure, Iowa City has become an extremely scooter-friendly town in the last few years. From easily accessible parking to affordable maintenance, IC is where it's at (as if you didn't know Iowa City was awesome before). 
Here are the top reasons college students should consider checking out a scoot.
Never Be Late to Class Again
Does this situation sound familiar to you?
It's Monday morning, you instantly regret adding that 8:00 am to your schedule, and YOUR ALARM DIDN'T GO OFF. 
You rush out of bed, skip breakfast, probably forget to lock the door, and run to reach the bus stop. Even if you manage to make the bus you know you're going to be that person who walks into class 10 minutes late.
Yikes.
We know commuting can be a pain, so make it easy for yourself by riding a scooter! You can leave the house on your own schedule (sleep in later), skip the extra bus stops, and never worry about finding a parking spot (they are everywhere).
Scooters are especially key for students who have classes on the opposite side of campus or athletes constantly traveling to the West side.
It's Affordable
Money can be tight for college students. While cars are pricey, scooters are a practical investment. Here's how your wallet will benefit from it:
Budget-friendly:

Scooters are typically more affordable than other motor vehicles. At UScoots, we offer quality scooters for every taste and style for as low as $1,000 - $1,500.

Miles per gallon:

The average scooter has about 100 miles per gallon - 5x greater than that of a car. That is over 10 trips around Iowa City before hitting the gas station. Plus, scooters hold about two gallons of gas. Meaning your trip to the gas station should only be around $5-6. ("Back in my day it was a nickel").

Low maintenance:

Scooters are fairly easy to maintain. You only need to stop in for an oil/filter change every one thousand miles. (We know a place).

Parking:

Compared to a car, riding a scooter will save you A LOT of money on parking. In Iowa City, parking on campus will cost around $63/semester, while a car will put you out about $189/semester. Not to mention purchasing a spot at your apartment can be anywhere from $500 - $2000).

Insurance: The average cost for scooter insurance is $250 per year, compared to $1,500+ per year for car insurance. (15 minutes could save you 15% or more…)
And did we mention less gas = less pollution? Scooters emit far less carbon dioxide than larger motor vehicles. It's a win-win situation for your budget and mother nature. 🌎
Scooters Are Honestly Just More Fun
The commute doesn't just have to be about getting from point A to point B, it is possible to enjoy the ride. You jump on a scooter, you get to enjoy some fresh air and cruise around downtown. Sunroofs just don't cut it.
When the ride is fun you'll want to try out new routes and take some time to enjoy where you live! 
Remember to Stay Safe.
Scooters are fun but your personal safety should always come first when hitting the road. Here's how to stay safe as you ride around Iowa city: 
Wear the Proper Safety Gear
You can minimize most injuries and accidents by wearing the appropriate safety equipment. Check out our recommendations:
Full-face helmet: If you're looking for optimal protection, you can never go wrong with a full-face helmet. A full-face helmet not only prevents deadly injuries but also protects you from rain, wind, and bugs.

Gloves: A good pair of gloves allows you to maintain a safe grip on the throttle. Even with sweaty hands from the humidity, gloves ensure that your grip stays strong and doesn't slip.

Close-Toed Shoes: Trust us, riding a scooter in Birks is a bad call.

Safety flags: Make sure cars can see you and add a safety flag to the back of your scoot.

Jacket and pants: There's nothing worse than falling on the road while wearing short sleeves or shorts. Make sure to stay covered as you ride by wearing a protective jacket and pants.
We value the safety of our clients more than anything. Come check out our store for helmets, gloves and safety flags!
Use the Scooter Tools Available
Just like a car, scooters come with horns, lights and turn signals. All scooter controls are around the left brake, with the horn at the bottom, the turn signals in the middle and the headlights at the top. Make sure to use these features as you ride to keep you safe. See a full rundown on how to ride.
Be Aware of the Rules of the Road
It's essential that you remain cautious of Iowa's rules of the road as you scoot. Here's a checklist that should help you:
Scooters must always be in the right lane of travel unless making an immediate left turn.

You cannot carry another person while riding a scooter (fines do apply).

You cannot ride your scooter on the sidewalk.

You cannot use your phone or headphones while riding.

A bicycle safety flag is required.

With larger cars and buses zooming on the road, it's crucial that you make your presence clear to avoid danger.
Wear Visible Clothing at Night
Avoid wearing dark-colored clothing at night. Wearing light colored or a neon vest/jacket goes a long way when it comes to protection. Wearing visible clothing at night helps drivers recognize you on the road and prevents deadly accidents.
Riding a Scooter in Iowa City
Now that you've learned how awesome scooters are, time to choose your own. Narrow down which scooter is right for you then stop in for a visit to get rolling.
Our staff run by students live and breathe scooters everyday. We can relate and will do everything to provide a scoot that best fits your schedule, lifestyle, and needs.